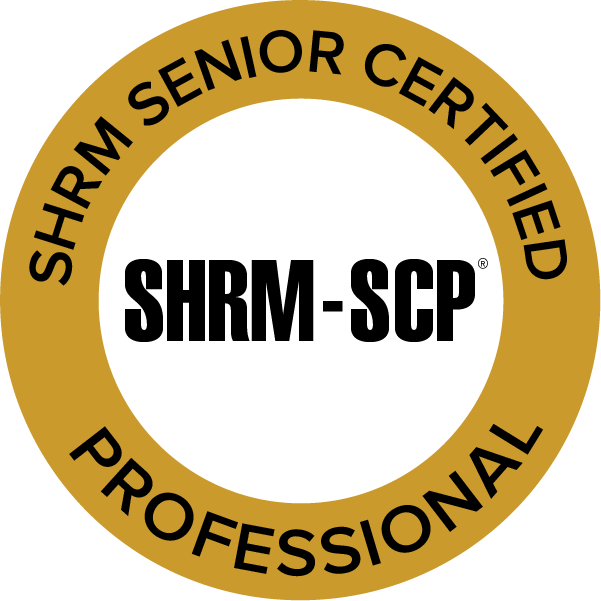 SHRMSenior Certified Professional (SHRM-SCP)™
The SHRM-SCP Certification validates the skills and knowledge of experienced human resource professionals who are looking to advance their HR career and transform their workplaces with global HR best practices.
About The SHRM-SCP Certification
The SHRM-SCP certification is for individuals that have a work history of at least 3 years performing strategic level HR/HR-related duties; or for SHRM-CP credential holders who have held the credential for at least 3 years and are working in, or are in the process of transitioning to, a strategic level role.
It is a globally recognized certification that validates an individual's knowledge, skills, and commitment to the HR profession. The SHRM-SCP proves the understanding of HR concepts, principles, and practices, as well as the ability to apply them in real-world situations.
Being SHRM-SCP certified proves that the HR professional is indeed a senior technical expert and has gained mastery of the application of HR technical and behavioral competencies, via practice and experience, to drive desired business results.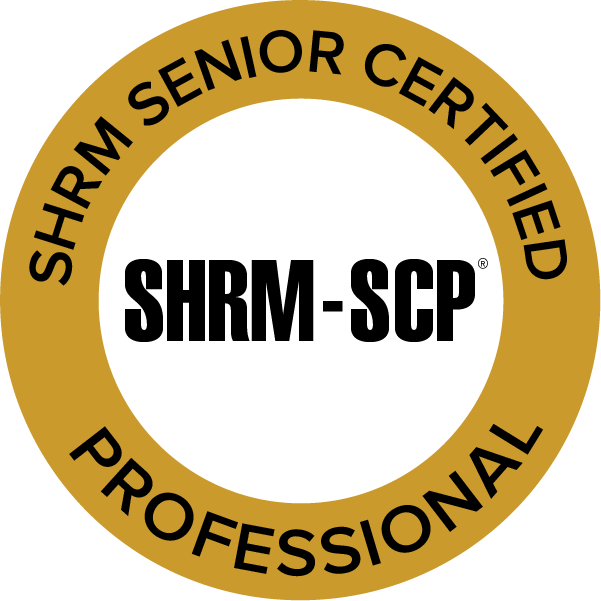 Leadership

17%

17%

Business

16.5%

16.5%

Interpersonal

16.5%

16.5%

People

18%

18%

Organization

18%

18%

Workplace

14%

14%
SHRM-SCP Frequently Asked Questions…
Why do you need a SHRM-SCP Certification?
The SHRM-SCP certification is 100% focused on the competencies and knowledge all HR professionals require to lead in today's dynamic and competitive business community. Benefits of the SHRM-SCP Certification include:
Enhanced Credibility: A SHRM-SCP certification validates an individual's mastery of HR concepts, principles, and practices. This expertise can help HR professionals make better decisions and be more effective in their roles. This enhances their credibility with both employers and clients.
Competitive advantage: The SHRM-SCP certification can give HR professionals a competitive advantage in the job market. It is a credential that is recognized and respected by employers and helps HR professionals stand out from other candidates.
Increased earning potential: The SHRM-SCP certification can lead to higher salaries and increased earning potential. According to the SHRM 2020 Human Capital Benchmarking Report, HR professionals with a SHRM-SCP certification earn an average of 13% more than their non-certified peers.
Professional development: The process of earning the SHRM-SCP certification involves studying and staying up-to-date with the latest trends and best practices in the field of HR. This ongoing professional development helps HR professionals stay current and relevant in their roles.
Networking opportunities: The SHRM-SCP certification provides HR professionals with networking opportunities. The certification offers a way to connect with other HR professionals who share a commitment to excellence in the field. It can also provide access to SHRM events, resources, and communities.
What are the Benefits of SHRM-SCP Certified Professionals to Organizations?
The presence of SHRM-SCP certified professionals in your organization demonstrates that your HR professionals have mastered the application of global best practices in HR. Benefits of SHRM-SCP certified professionals in your organization include:
Advanced HR knowledge and skills: SHRM-SCP certified professionals have demonstrated advanced HR knowledge and skills in areas such as leadership, strategy, and business acumen. They can use this knowledge to help the organization develop and implement effective HR practices, policies, and programs.
Improved HR practices: SHRM-SCP certified professionals have a deep understanding of global HR best practices and can help organizations improve their HR processes and policies. They are best equipped to provide guidance on issues such as employee relations, recruitment, compensation, and benefits, and help organizations create a positive and productive work environment.
Increased compliance: SHRM-SCP certified professionals are knowledgeable about employment laws and regulations and can help organizations ensure they are in compliance. They can provide guidance on issues such as equal employment opportunity, workplace safety, and labor relations, and help organizations avoid costly legal issues.
Global perspective: The SHRM-SCP certification covers global HR issues and trends, which is critical for organizations with a global presence or those looking to expand globally. SHRM-SCP certified professionals can provide valuable insights and guidance on HR practices and laws in different regions of the world.
Career development: Organizations that support their employees in earning the SHRM-SCP certification can benefit from increased employee retention and loyalty. Offering professional development opportunities such as certification programs can help employees feel valued and invested in their careers, which can lead to better job performance and a stronger commitment to the organization.
Who Should Attend The SHRM-SCP Training?
The SHRM-SCP certification exam preparatory training is intended for HR professionals who are currently in senior HR positions or aspiring to be in such positions. Specifically, individuals who should consider taking the SHRM-SCP training include:
Experienced HR professionals who are seeking to advance their career and demonstrate their expertise in HR strategy and leadership
HR managers, directors, and executives who are responsible for developing, implementing, and evaluating HR policies and programs
HR professionals who work in global organizations or those who plan to expand their organization's global operations
HR consultants and trainers who provide HR guidance and support to organizations and clients
Individuals who have completed the SHRM-CP certification and want to further enhance their knowledge and expertise in HR.
What Is The Course Outline?
The SHRM-SCP exam preparatory course outline is designed to cover the major exam content areas listed below:
18%  – Organization
18%  – People
17%  – Leadership
16.5% – Business
16.5% – Interpersonal
14% – Workplace
Am I Eligible to take the SHRM-SCP Certification?
The SHRM-SCP exam is designed to assess the competency level of those who engage in HR work at the strategic level. Work at this level includes duties such as developing HR policies and/or procedures, overseeing the execution of integrated HR operations, directing an entire HR enterprise, or leading the alignment of HR strategies to organizational goals.
Applicants must be able to demonstrate that they devoted at least 1,000 hours per calendar year (Jan. – Dec.) to strategic level HR/HR-related work. Part-time work also qualifies as long as the 1,000-hour per calendar year standard is met.
Experience may be either salaried or hourly.
Individuals who are HR consultants may demonstrate qualifying experience through the HR/HR-related duties they perform for their clients. Contracted hours must however meet the 1,000-hour standard.
How Much Does the Exam Cost?
Exam Fee*: Get in touch for the current rate
*Once an exam application is approved, no refunds will be made whether a candidate withdraws or no longer wishes to take the exam.
Enjoy $75 Early Bird Registration Discount.
When Can I Take the Exam?
Testing for the SHRM certification is available within specified Test windows annually. For 2023, the Test windows are as follows:
Test Window 1: May 1 – July 15, 2023
Test Window 2: Dec. 1, 2023 – Feb. 15, 2024
What Is the SHRM-SCP Exam Format & Length?
The SHRM-SCP is a Computer-based Test (CBT) taken in person at an authorized Prometric Test center or from home through live remote proctoring (for candidates based outside Nigeria).
How Do I Remain Certified?
Once certified, your SHRM-SCP certification is valid for a three year period. To maintain your SHRM credential:
You are required to earn 60 professional development credits (PDCs) within your 3-year recertification period.
Re-take the certification exam within the last year of your recertification period.